Leading Online Travel Agency Marks National Travel and Tourism Week with Reports of Increasing Domestic and International Travel Year Over Year
CheapOair, a leading flight-focused hybrid travel agency, has released a summary of Quarter 1 travel trends from 2013 through 2017 in recognition of National Travel and Tourism Week. The report shows that travel within the United States is up nearly 50% since 2013, while outbound travel to international destinations is up a massive 170%. The 34th annual National Travel and Tourism Week (May 7-13, 2017), celebrates what travel means to American jobs, economic growth, and personal well-being.
Key findings from CheapOair's data
In the past five years, domestic travel within the United States has increased nearly 50% with the most significant jump of 15% occurring between 2016 and 2017.
Ticket prices for domestic flights in 2017 were just slightly higher than 2016, however, costs still came in 15% lower than 2013. Average domestic ticket price for Q1 2017 was $346.75.
Travel from the U.S. to international destinations has seen a substantial increase of 170% since 2013. The largest increase came during the past year with a 30% jump in international trips.
Prices to international destinations were down over 17% with an average ticket price of $728.78.
In addition to traffic and pricing data, CheapOair noticed some fascinating travel details. Thursday is the most popular departure day, while Sunday and Monday are the least popular days to depart. The data also showed that travelers are increasing the length of the trips they are taking. In 2013, the average trip duration was 10.03 days which jumped to 13.61 in 2017. Overall, the total number of U.S. passengers has grown by 85% in just five years, indicating that as flying is becoming increasingly affordable, people are traveling now more than ever.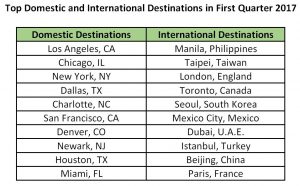 CheapOair's data indicates a healthy travel industry and gives a positive outlook for an industry with critical economic importance nationwide. According to the U.S. Travel Association:
Travel is a $2.3 trillion industry in the U.S., with $990.3 billion in direct travel-related spending in the U.S. by domestic and international visitors in 2016.
These visitors support 15.3 million American jobs—roughly 8.6 million direct travel jobs, and 6.7 million indirect and induced jobs.
Travel-related spending generated $157.8 billion in federal, state and local tax revenues in 2016.
For more information, please visit www.cheapoair.com or our social media pages, www.facebook.com/cheapoair and www.twitter.com/cheapoair. Download the CheapOair app for Apple or Android for an on-the-go travel concierge experience.
*The statistics referenced are based on travel departing and returning between January 1 – March 31 for each year from 2013 through 2017.
About CheapOair
CheapOair is a flight-focused hybrid travel agency that enables consumers to book online, on mobile apps for iOS and Android, by phone or live chat. CheapOair (https://www.cheapoair.com, 1-646-738-4820) bridges the gap between an online and traditional travel agency with certified travel agents available to help find deals and offers to destinations worldwide on over 450 airlines, 150,000 hotels, and 100s of car rentals. Partner airlines benefit from access to CheapOair's broad customer base that books high yield international travel and add-on ancillaries at above the industry average. Follow CheapOair on Facebook and Twitter to learn how to travel the world for less.