Data Reveals Booking Trends, Top Cities Traveled to and More
CheapOair®, the leading flight-focused hybrid travel agency, today announced its top ten domestic and international destinations for the 2017 holiday season. This year, Denver, CO, Las Vegas, NV, and Los Angeles, CA round out the top three U.S. domestic cities booked, accompanied by three Mexican destinations – Mexico City, Cancun, and Guadalajara – as the top three international cities booked. For this holiday season, CheapOair's data reveals that average U.S. domestic airfare prices have decreased by 5% since last year, and they are down nearly 30% since 2013.
 This year, many U.S. travelers are planning vacations to warm weather destinations across Mexico and the Caribbean.  Within these regions, data shows a tremendous increase in bookings to destinations including Monterrey and Los Cabos in Mexico, the Dominican Republic, and the Bahamas. Bookings to U.S cities including Denver are up 60% year over year, and Austin, TX are up 158% year over year.
CheapOair predicts that the booking window for a cheap airfare is closing quickly as we move into December. The online travel agency expects prices to jump significantly in the second week of the month and encourages consumers to book soon to score the best deals for holiday travel.
"Warm weather travel is always at its peak during the holiday season, however many travelers are still making plans to visit the cooler regions such as New York, Colorado and Canada," said Tom Spagnola, Senior Vice President of Supplier Relations at CheapOair. "This year, we're seeing a few new cities pop up, both internationally and domestically, and overall, prices are lower than they've been in past years prompting more consumer than ever to travel for the holidays."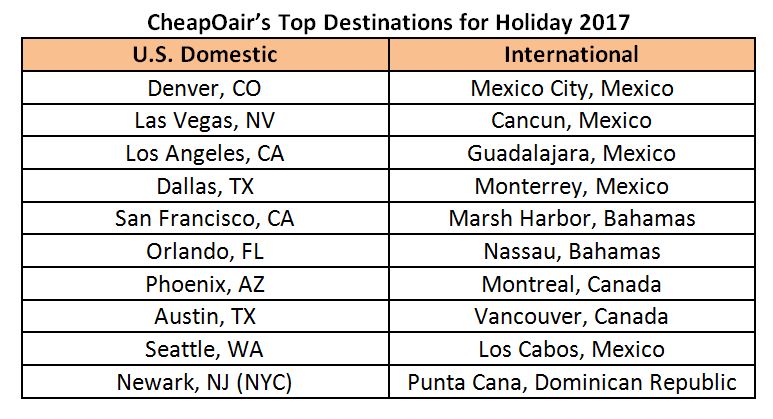 Outside of the U.S., Mexico has taken the lead with five of its cities being top destinations traveled to this holiday season, followed by the Bahamas, Canada and Dominican Republic. Bookings to Mexico overall are up approximately 60% over the past five years.
By consistently monitoring travel trends, CheapOair's mission is to educate and aid consumers and travel professionals in both planning their travel accommodations and staying current on the most popular destinations. With a portfolio of products, including rate and schedule information from 450 global airlines, CheapOair is a great way to book the travel that's right for you.
For more information, please visit www.CheapOair.com, www.cheapoair.com/mobile, or our social media pages, www.Facebook.com/CheapOair and www.twitter.com/cheapoair.
*The data referenced compared YOY passenger numbers for travel from December 22nd through December 26th on flights from all U.S. origins from 2013 – 2017. Top destinations were determined based on passengers numbers for travel from 12/22/17 – 12/26/17 booked as of 11/4/2017.
About CheapOair
CheapOair is a flight-focused, hybrid travel agency that enables consumers to book online, on mobile apps for iOS and Android, by phone or live chat. CheapOair (https://www.cheapoair.com, 1-646-738-4820) bridges the gap between an online and traditional travel agency with certified travel agents available to help find deals and offers to destinations worldwide on over 450 airlines, 1 million hotels, and 100s of car rental companies. Partner airlines benefit from access to CheapOair's broad customer base that books high yield international travel and add-on ancillaries at above the industry average. Follow CheapOair on Facebook and Twitter to learn how to travel the world for less.
https://www.fareportal.com/wp-content/uploads/2013/04/fp-logo.png
0
0
fareportaladmin
https://www.fareportal.com/wp-content/uploads/2013/04/fp-logo.png
fareportaladmin
2017-11-30 11:27:28
2017-11-30 11:27:28
CheapOair Announces Top Destinations for the Holiday Season