Last year, CheapOair.com noticed a trend in travelers picking their destinations based on "Instagramability". This year, the online travel agency and leading provider of cheap flights sees no sign of this movement slowing down. To help travelers plan their trips, CheapOair has selected its top picks for the most photogenic destinations to visit during the summer 2019 travel season.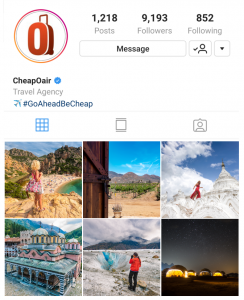 Sardinia: From your best friend to your great-aunt, you've probably noticed that everyone has already been to the Amalfi Coast. Be the talk of all your followers this summer with a trip to the island of Sardinia, one of Italy's best-kept secrets. The trendsetting Instagrammer will enjoy spectacular beaches, hidden coves, and of course, the freshest seafood the Mediterranean has to offer. Average airfare for summer travel from the US to Sardinia is $1,167*.
Baja California: Skip hectic Napa this summer and head south of the border to Valle de Guadalupe, Mexico for winery tours. With its Mediterranean-like climate, the conditions are perfect for producing big, bold reds that are starting to get a lot of attention. As tourism grows, so does the food scene which makes Baja California the perfect destination for the foodie Instagrammer this summer. Average airfare for summer travel from the US to Baja California is $502.
Myanmar: This Southeast Asian country has it all. From limestone mountains and rice paddies to breath-taking beaches and temples. This summer, the fashionista Instagrammer should choose a colorful outfit when visiting the white-washed Hsinbyume Pagoda to really stand out.  Average airfare for summer travel from the US to Myanmar is $1,157*.
Bulgaria: This former Soviet-bloc nation is finding its footing within the European Union and is starting to attract Western travelers. The off-the-beaten-path Instagrammer will appreciate the limited number of tourists and the ability to form a deeper connection with the locals. Plus, the many free walking tours available make it a budget-friendly destination. Average airfare for summer travel from the US to Bulgaria is $995*.
Alaska: If you're an outdoorsy Instagrammer, you'll surely enjoy the moderate temperatures and myriad of exciting activities Alaska has to offer in the summer. Plus, in June and July you can take advantage of up to 22 hours of daylight to make the most of your visit. Don't miss out on one of the quintessential Alaskan activities of visiting a glacier. You may even get to see "calving" as the region goes through the summer melt. Average airfare for summer travel from the US to Alaska is $570*.
Jordan: Thanks to the fame brought by Indiana Jones, Petra has long been the pinnacle of the adventure Instagrammer's bucket list. However, if you're looking to stand apart from the rest, set your sights on Wadi Rum. In addition to the red-rock desert landscape, you'll feel extra interplanetary with a stay in a desert bubble. Like Petra, Wadi Rum has also been the location for many movie sets. Average airfare for summer travel from the US to Jordan is $1,216*.
By consistently monitoring travel trends, CheapOair's mission is to educate and aid consumers and travel professionals in both planning their travel accommodations and staying current on the most popular destinations.
For more information, please visit www.CheapOair.com, www.cheapoair.com/mobile, or our social media pages, www.Facebook.com/CheapOair and https://twitter.com/cheapoair.
*Based on average roundtrip airfare for tickets booked on CheapOair as of 05/02/19 for travel departing from all US gateways 06/01/19 – 08/31/19.
###
About CheapOair
CheapOair is an online travel agency that specializes in providing cheap flights and great last-minute flight deals for travelers worldwide. Consumers can book online, on mobile apps for iOS and Android, by phone (1-646-738-4820) or live chat. Part of Fareportal's family of travel brands, CheapOair bridges the gap between an online travel agency and a traditional agency with certified travel agents available to help find discount flight tickets to global destinations on over 450 airlines, a million hotels, and 100s of car rental companies. Follow CheapOair on Facebook, Twitter, Instagram , and Pinterest to learn how to travel the world for less.
https://www.fareportal.com/wp-content/uploads/2013/04/fp-logo.png
0
0
fareportaladmin
https://www.fareportal.com/wp-content/uploads/2013/04/fp-logo.png
fareportaladmin
2019-05-07 10:29:56
2019-05-07 10:29:56
CheapOair.com Names Six "Insta-Worthy" Destinations for Summer 2019