Leading hybrid travel brand recognized for leadership, dedication and support of KEEN New York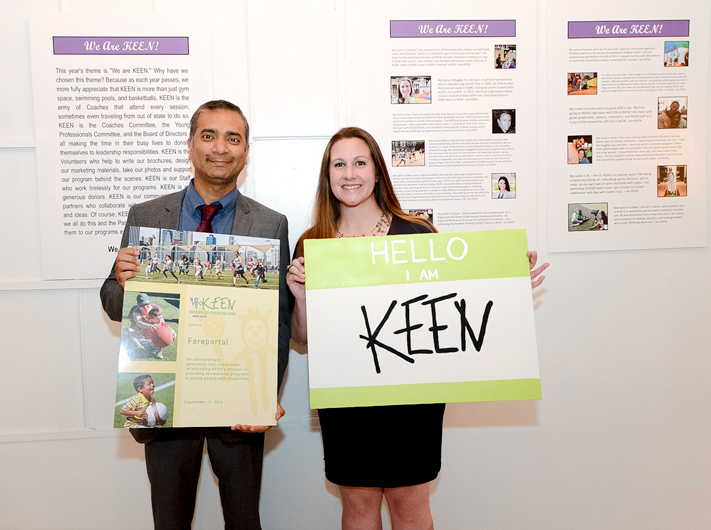 September 23, 2014 –- Fareportal, the parent company to leading hybrid (online/traditional) travel agencies CheapOair and OneTravel, announced today that it was selected to receive KEEN New York's Proud Partner Award for 2014. Each year, the award recognizes a company which contributed most to the organization's mission of offering free recreational opportunities to children and young adults with disabilities.
"Continuing with our tradition, we have selected Fareportal for this special recognition in appreciation of the company's leadership, dedication and continuing support for KEEN New York," said Maggie Harrison, executive director of KEEN New York. "Together, Fareportal and KEEN New York are making New York a better place for children and young adults with disabilities to exercise and play and we look forward to expanding our partnership."
Fareportal has developed a strong partnership with KEEN New York since the summer of 2013: sending dedicated volunteers, who assisted in KEEN's inaugural Brooklyn Basketball program and who continue to help build other long-standing programs,  investing financially in the organization, and providing an opportunity to display KEEN's Athletes' artwork at the Fareportal headquarters with the creation of the Art@Fareportal program.
"Fareportal supports several charities worldwide, but as a company proudly headquartered in New York, with hundreds of New York-based employees, we are particularly honored to help support the great work being done in our local community," said Sam Jain, CEO of Fareportal. "One of our favorite things to do is to give back to the New York community and that means helping every New Yorker, especially those who – like the boys and girls of KEEN – need our attention, time and support more than others. We are honored that our dedication and support of the organization is recognized with this prestigious award."
The KEEN New York Proud Partner Award was presented to Fareportal's leadership at KEENFest, KEEN's annual fundraising gala, held on September 17, 2014. All of the proceeds from KEENFest benefitted free-of-charge, volunteer-based exercise and recreation programs serving children and young adults with significant disabilities.
About KEEN
Founded in 2008, KEEN New York is a volunteer-led, nonprofit 501(c)(3) organization and is an affiliate of KEEN USA headquartered in Washington, DC. KEEN New York's local Board of Directors is comprised of community leaders, parents and volunteers with the purpose of overseeing the operation and ensuring that it remains true to KEEN's mission: providing free recreational opportunities to children and young adults with disabilities by pairing them with trained volunteers for fun, noncompetitive activities. For more information, see: http://www.keennewyork.org.
About Fareportal
Fareportal is a travel technology company that powers hybrid (online/traditional) travel agencies. Utilizing its innovative technology and company owned and operated contact centers, Fareportal has forged strong industry partnerships with over 450 airlines, 150,000 hotels and 100s of car rental companies to serve millions of customers every year. With a portfolio of consumer travel brands including CheapOair and OneTravel, Fareportal's airline partners benefit from access to a broad customer base that books high-yield international travel and add-on ancillaries at a rate higher than the industry average. To learn more, visit www.Fareportal.com.
https://www.fareportal.com/wp-content/uploads/2013/04/fp-logo.png
0
0
fareportaladmin
https://www.fareportal.com/wp-content/uploads/2013/04/fp-logo.png
fareportaladmin
2014-09-23 10:56:52
2014-09-23 10:56:52
Fareportal Receives KEEN New York's Proud Partner Award for 2014