Year-Over-Year Data Shows Four New International Cities are among the Top Traveled to Destinations
November 20, 2014 — CheapOair, the first flights-focused hybrid travel agency, today announced its top ten most popular domestic and international destinations for Thanksgiving. Los Angeles, Orlando and Denver once again dominated this year's top three domestic spots, however the most popular international destinations list highlights Cancun as the most flocked-to destination this year, followed by Manila and San Juan.
Domestic Thanksgiving Travel Facts 2014 vs. 2013:
This year, the top destinations remain the same when compared to 2013, showing, for the majority, only slight increases in average airfare. In addition to the top three cities upholding their positions this year, San Francisco, CA and Chicago, IL made a jump to the top six destinations, which moved Las Vegas, NV to the number seven spot. The average roundtrip airfare of 2014 is approximately $392, and travelers seeking the best value can find the lowest fares to Orlando, Denver, Dallas, Chicago, Las Vegas, Ft. Lauderdale and Phoenix, as they are all priced below average.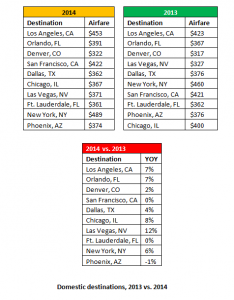 International Thanksgiving Travel Facts 2014 vs. 2013:
This year's data for international travel yielded four new destinations; Manila, Puerto Vallarta, Dublin and Sydney, replacing Mexico City, Guadalajara, Vancouver and London from 2013. This year, airfare prices are varied, showing a combination of both decreases and increases across the board. With a slight cost decline this year for Cancun, the destination moved to the number one spot, as opposed to being number three in 2013. However, the opposite occurred for Toronto, whose cost also declined from 2013 but now holds the sixth spot, versus the first.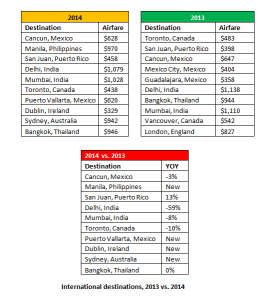 "When it comes to booking travel plans this Thanksgiving, we advise consumers to be flexible, and utilize CheapOair to compare fares and search for different flight options," explains Thomas Spagnola, CheapOair's Senior Vice President of Supplier Relations. "Booking flights that are scheduled to fly on off-peak days, whether that be shortening or extending the holiday weekend, will put travelers at ease, and produce the lowest fares."
By consistently monitoring travel trends, CheapOair's mission is to educate and aid consumers and travel professionals in both planning their travel accommodations and staying current on the most popular destinations. With a portfolio of products, including partnerships with 450 global airlines, CheapOair's inventory is guaranteed to find the highest quality, cost efficient, reservations in the industry.
The fares referenced are averages, calculated based on bookings made 30+ days in advance, leaving anytime Friday before Thanksgiving and returning Sunday or Monday following the holiday. With that in mind, the average fare to the top 10 destinations is $391.00. With 90% confidence, CheapOair predicts that the fares can fluctuate +/- $160, based on tickets purchased prior to Nov 6, 2014.
For more information, please visit http://www.CheapOair.com, http://www.cheapoair.com/mobile, or on our social media pages, http://www.Facebook.com/CheapOair and https://twitter.com/cheapoair.
About CheapOair
CheapOair is the first hybrid (online/traditional) travel agency that enables consumers to book travel online, on mobile apps, by phone or live chat. CheapOair (http://www.cheapoair.com, 1-646-738-4820) bridges the gap between an online and traditional travel agency with certified travel agents available to help find deals and offers to destinations worldwide on over 450 airlines, 150,000 hotels, and 100s of car rentals. Partner airlines benefit from access to CheapOair's broad customer base that books high yield international travel and add-on ancillaries at above the industry average. Follow CheapOair on Facebook and Twitter to learn how to travel the world for less.
https://www.fareportal.com/wp-content/uploads/2013/04/fp-logo.png
0
0
fareportaladmin
https://www.fareportal.com/wp-content/uploads/2013/04/fp-logo.png
fareportaladmin
2014-11-20 11:47:46
2014-11-20 11:47:46
CheapOair Announces Top Destinations for Thanksgiving 2014