Trends Show an Increase in Booking Lead Times, and 2014 as the Best Time to Travel Abroad
December 02, 2014 — CheapOair, the first flights-focused hybrid travel agency, announced today its list of top international and domestic destinations consumers are traveling to for the holidays. The data shows that average roundtrip domestic and international airfare are $480 and $812, respectively. CheapOair also discovered that 2014 is proving to be a great year to travel internationally this season, as more than half of the destinations are showing a drop in fares from 2013.
Domestic Holiday Travel Facts 2014 vs. 2013:
2014's top three destinations remained identical to 2013's, with the only difference being Orlando moving to the number one spot, above Los Angeles. This year, Miami made its debut on the top ten list, knocking Seattle from its number 9 position last year.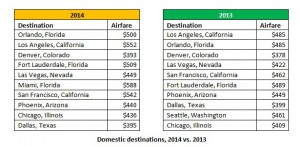 International Holiday Travel Facts 2014 vs. 2013:
This year's data for international travel yielded two new destinations: San José and San Juan, replacing Guadalajara and Nassau from 2013's list. More than half of CheapOair's top ten destinations saw a decrease in airfare pricing, including Cancun, Dublin, Kingston, Montego Bay, Manila and Paris, proving that 2014 is an ideal year to travel abroad.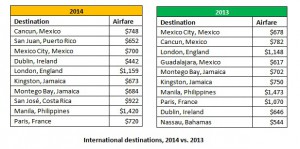 "Flexibility and patience are key when traveling during the upcoming holiday season," advises CheapOair's travel expert, Tom Spagnola. "Consumers should be willing to adjust their plans by choosing off-peak travel days, as well as consider flying out of smaller, local airports; the difference of a few days or a few miles can mean saving hundreds of dollars on your trip."
By consistently monitoring travel trends, CheapOair's mission is to educate and aid consumers and travel professionals in both planning and booking their travel and staying current on the most popular destinations. With partnerships with more than 450 global airlines and a database of more than 2,000 destinations, CheapOair can help travelers find the highest quality, cost efficient flight reservations in the industry.
For more information, please visit http://www.CheapOair.com, http://www.cheapoair.com/mobile, or on our social media pages, http://www.Facebook.com/CheapOair and https://twitter.com/cheapoair.
About CheapOair
CheapOair is the first hybrid (online/traditional) travel agency that enables consumers to book travel online, on mobile apps, by phone or live chat. CheapOair (http://www.cheapoair.com, 1-646-738-4820) bridges the gap between an online and traditional travel agency with certified travel agents available to help find deals and offers to destinations worldwide on over 450 airlines, 150,000 hotels, and 100s of car rentals. Partner airlines benefit from access to CheapOair's broad customer base that books high yield international travel and add-on ancillaries at above the industry average. Follow CheapOair on Facebook and Twitter to learn how to travel the world for less.
https://www.fareportal.com/wp-content/uploads/2013/04/fp-logo.png
0
0
fareportaladmin
https://www.fareportal.com/wp-content/uploads/2013/04/fp-logo.png
fareportaladmin
2014-12-02 10:23:29
2014-12-02 10:23:29
CheapOair Announces Top Destinations for Upcoming Holiday Travel Season