Leading online travel agency, OneTravel, has released a summary of key travel trends, showcasing findings that occurred within the industry this past year, as well as a look at what's on the horizon in 2018.
From the most expensive months to book airline tickets to the most popular destinations, key takeaways from 2017 include:
The three busiest months for travel in 2017 were December, July, and August. The quietest months were February, April, and January.1 Despite being a slow month, April was the most expensive while September and October were the cheapest.2
In 2017, OneTravel saw an increase in popularity for travel to Asia destinations. The Philippines, India, China, Thailand, and Vietnam were all ranked in the top 20 most popular countries for the year, up from only three Asian countries on the list in 2014. Vietnam saw a significant jump of 21 spots over the three year period. In 2014, the up-and-coming Southeast Asian destination was ranked as the 37th most popular country, but surged to number 16 in 2017.1
In 2017, travelers generally booked airline tickets just over a month ahead of their departure date, but the online booking site noticed there are still a few destinations where travelers prefer to plan ahead. Places where travelers consistently booked more than three months in advance include Iceland, Maldives, Madagascar, and Denmark.3
"After the record-breaking cold that hit the northern U.S. at the beginning of January, we saw a spike in bookings to warm weather destinations," said Sanjay Hathiramani, Global SVP of Supplier Relations at OneTravel. "Our early data indicates that travelers will continue to head south in February and March as well."
Florida dominates the list of most popular destinations in the U.S. with five cities in the top ten. Other warm weather destinations such as Los Angeles, Las Vegas, and Phoenix also made the list.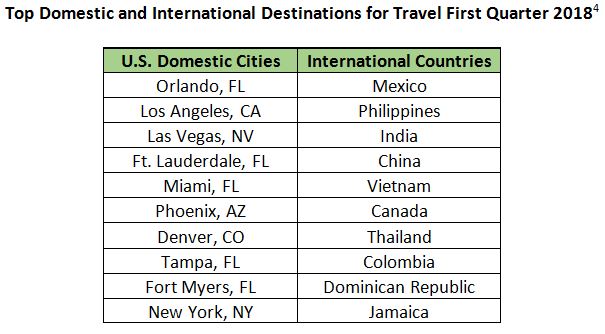 Along with these top destinations for the first quarter, OneTravel's data also revealed a few international cities that should expect to see more visitors this year than last. Vietnam's Ho Chi Minh City moved up three rankings since last year, making it the second most popular international destination.
"OneTravel's top five destinations, both internationally and domestically, typically remain fairly consistent, so this is a notable step up for Vietnam," added Hathiramani. "Several other cities that travelers should keep an eye on in 2018 are Guangzhou, Dublin, and Auckland, as they also made significant jumps in the rankings."

About OneTravel
OneTravel is a leading online travel agency that offers deals for savvy travelers seeking both quality and value. Part of Fareportal's family of travel brands, OneTravel is recognized globally for providing one-stop shopping for all travel needs. Customers have access to millions of cheap flights including business class and first class airfares, hotel rooms, car rentals, and cheap vacation packages to top destinations around the world. Visit OneTravel's social media pages at www.facebook.com/onetravel and www.twitter.com/onetravel. For an on-the-go travel concierge experience, download OneTravel's app for Apple or Android
1 Based on passenger numbers from 1/1/17 – 12/31/17
2 Based on average airfare purchased from 1/1/17 – 12/31/17
3 Based on average number of days travelers book in advance of their departure date from 1/1/17 – 12/31/17
4 Based on the number of passengers booked to travel U.S. domestic and from the U.S. to international countries 1/1/18 – 3/31/18 compared to the number of passenger who traveled during the same period in 2017.
5 Based on the number of passengers booked to travel from the U.S. to international cities 1/1/18 – 3/31/18 compared to the number of passenger who traveled during the same period in 2017.
https://www.fareportal.com/wp-content/uploads/2013/04/fp-logo.png
0
0
fareportaladmin
https://www.fareportal.com/wp-content/uploads/2013/04/fp-logo.png
fareportaladmin
2018-01-16 10:55:37
2018-01-16 10:55:37
OneTravel Recaps 2017 Travel Trends and Shares Predictions for 2018