Partnership showcases the in-flight experience with seat photos and descriptions prior to booking
Fareportal announced today it has integrated Routehappy by ATPCO Universal Product Attributes (UPAs) into its seat selection map, a first for a consumer travel brand. The integration – which is live on Fareportal's CheapOair.com and OneTravel.com websites – shows flight shoppers photos of the selected seat with a description of associated features so consumers can see what seat type, legroom, and experience they will have before booking a flight. This feature appears when consumers are shopping for flights for two or more passengers.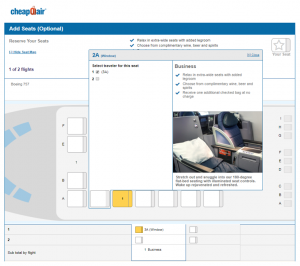 UPAs provide visually appealing media such as photos, videos, and 360-degree cabin tours, along with headlines and descriptions of an airline's products and services based on aircraft type, cabin, time of day, and more. The hyper targeting capabilities of Routehappy Hub, the content management solution which powers UPAs, enables Fareportal to target the seat images across different sub-fleets, cabins, and seats so that consumers see only accurate and relevant UPAs for the specific flight they are shopping. Once a consumer has selected a flight, they will be shown a seat map that incorporates this targeted, dynamic seat content for 19 carriers.
"Fareportal is always looking for ways to incorporate next generation features into the flight shopping experience," said Sam S. Jain, Founder and CEO at Fareportal. "As the first consumer booking channel to integrate UPAs into our seat map, we are providing our customers with more choice, greater transparency, and added value. Fareportal will continue to push new integrations that make our customers' flight shopping experience easier."
"The use cases for Routehappy rich content are endless, as are the pain points it solves. This original integration of our UPAs at the point of sale showcases the benefits we deliver to airlines, who can now merchandise their products more effectively on third party channels. It also highlights the benefits for shoppers and the advantages of a more consumer-friendly experience. Fareportal's seat map shows that the retailing of flights is only getting stronger," said Jonathan Savitch, Chief Commercial Officer at Routehappy.
To see the integration live visit CheapOair.com and begin a flight search or see an example of the integration on Routehappy.com.
About Fareportal
Fareportal is a travel technology company powering a next generation travel concierge service. Utilizing its innovative technology and company-owned and -operated global contact centers, Fareportal has built strong industry partnerships providing customers access to over 450 airlines, 1 million hotels, and hundreds of car rental companies around the globe. With a portfolio of consumer travel brands including CheapOair and OneTravel, Fareportal's booking platforms enable consumers to book online, on mobile apps for iOS and Android, by phone, or live chat. Fareportal provides its airline partners with access to a broad customer base that books high-yielding international travel and add-on ancillaries.
 About Routehappy by ATPCO
Routehappy by ATPCO, the industry standard for airline rich content, helps airlines and distributors differentiate and better monetize their products. Routehappy's Scores & Amenities API provides flight scores and cabin amenity data, including aircraft, seat, layout, entertainment, Wi-Fi, power, fresh food and relative duration. Routehappy Hub is a cloud-based solution that helps airlines create, manage and distribute targeted product and ticket attribute content, in standardized formats UPA (Universal Product Attribute) and UTA (Universal Ticket Attribute) wherever flights are displayed. Routehappy is a wholly owned subsidiary of ATPCO. Based in New York, Routehappy by ATPCO serves airlines and distributors worldwide. For more information, visit www.routehappy.com. To see Routehappy rich content in action, visit www.routehappy.com/use-cases.
https://www.fareportal.com/wp-content/uploads/2013/04/fp-logo.png
0
0
fareportaladmin
https://www.fareportal.com/wp-content/uploads/2013/04/fp-logo.png
fareportaladmin
2018-08-28 16:21:33
2018-08-28 16:21:33
Fareportal Becomes First-in-Industry to Integrate Routehappy UPA Rich Content into Flight Seat Maps for Enhanced Customer Experience