Across the U.S., students from kindergarten to 12th grade are beginning the countdown to spring break. In states like Texas and Florida, spring break is coming as soon as March 15th while others like New York, will have to wait until the tail end of April for their reprieve. CheapOair®, an online travel agency and leading provider of cheap flights, has analyzed the latest travel trends to determine the top destinations for elementary, middle, and high school families with spring break in March1.
Florida dominates this year's domestic travel list with five destinations landing in the top 10 – Orlando, Tampa, Ft. Lauderdale, Miami, and Ft. Myers. Internationally, there are several destinations in Mexico and the Caribbean in the top 10, but there are also a few European cities.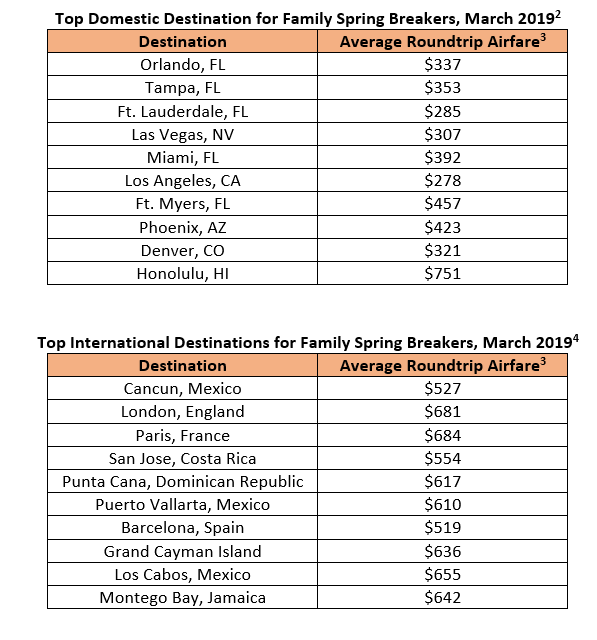 "With the rise of international low-cost carriers, traveling to a number of major cities in Europe has become very affordable compared to past years," said Tom Spagnola, SVP of Supplier Relations at CheapOair. "In some cases, taking a family trip to England or France in March – the off-season for those destinations – may end up being cheaper than a trip to one of the tropical destinations."
For March spring breaks, average domestic airfare this year is $387 while international airfare is averaging around $600. The cheapest domestic destination is Los Angeles, CA with an airfare of $278. Internationally, Barcelona is surprisingly the cheapest destination even compared to closer cities in Mexico or the Caribbean.
By consistently monitoring travel trends, CheapOair's mission is to educate and aid consumers and travel professionals in both planning their travel accommodations and staying current on the most popular destinations.
For more information, please visit www.CheapOair.com, www.cheapoair.com/mobile, or our social media pages, www.Facebook.com/CheapOair and https://twitter.com/cheapoair.
1Family spring break data for April 2019 to be released separately.
2 Based on passenger groups traveling domestically in the US departing 3/15/19 – 3/19/19 or 3/22/19 – 3/26/19 and returning 3/20/19 – 3/24/19 or 3/27/19 – 3/31/19.
3 Based on average roundtrip airfare departing from US gateways departing 3/15/19 – 3/19/19 or 3/22/19 – 3/26/19 and returning 3/20/19 – 3/24/19 or 3/27/19 – 3/31/19.
4 Based on passenger groups traveling internationally from the US departing 3/15/19 – 3/19/19 or 3/22/19 – 3/26/19 and returning 3/20/19 – 3/24/19 or 3/27/19 – 3/31/19.
###
About CheapOair
CheapOair is an online travel agency that specializes in providing cheap flights and great last-minute flight deals for travelers worldwide. Consumers can book online, on mobile apps for iOS and Android, by phone (1-646-738-4820) or live chat. Part of Fareportal's family of travel brands, CheapOair bridges the gap between an online travel agency and a traditional agency with certified travel agents available to help find discount flight tickets to global destinations on over 450 airlines, a million hotels, and 100s of car rental companies. Follow CheapOair on Facebook, Twitter, Instagram , and Pinterest to learn how to travel the world for less.
https://www.fareportal.com/wp-content/uploads/2013/04/fp-logo.png
0
0
fareportaladmin
https://www.fareportal.com/wp-content/uploads/2013/04/fp-logo.png
fareportaladmin
2019-03-06 15:30:51
2019-03-06 15:30:51
Family Spring Breakers Head to the Tropics, Europe for March Getaways