Year over Year Data Shows Fluctuations in Average Airfare Prices
CheapOair®, a leading flights-focused hybrid travel agency, today announced its top ten most popular domestic and international destinations for the 2016 holiday season. Los Angeles, CA, Denver, CO and Dallas/Ft. Worth, TX dominate this year's top three holiday destinations. In addition, CheapOair's data shows that the average airfare prices have decreased by 3% year over year.
This December, many international travelers are planning to visit warm weather destinations like San Juan, Puerto Rico and Cancun, Mexico.  Domestically, Charlotte, NC saw the largest decrease in airfare this year, dropping about 21% compared to 2015, with Phoenix, AZ and Atlanta, GA trailing behind, decreasing by 11% and 6% respectively.
"With fluctuating prices this year, it is important to act now if you plan on jet setting this December.  If you're looking to cut travel costs, try to plan ahead so that you can be flexible with flight dates," says Spagnola.  "Typically, traveling on the holiday itself yields the most affordable flights options than traveling the days before."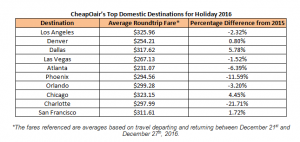 Outside of the 50 states, San Juan, Puerto Rico has claimed the number one spot on the list of top destinations this year. CheapOair's data also shows that in addition to tropical locations, two Canadian hot spots are among the top destinations this season, with Vancouver experiencing a 4% increase in pricing and Toronto seeing a 23% decrease since 2015.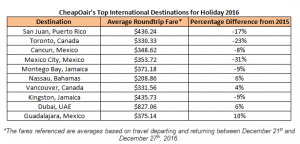 "With the holidays in full swing, travelers are taking advantage of time off to not only visit friends and loved ones, but to also trade the cold winter weather for more tropical vacations," said Tom Spagnola, Senior Vice President of Supplier Relations.  "The lower airfare is very enticing to consumers who want to get away for a few days, and refresh before they enter into the new year."
By consistently monitoring travel trends, CheapOair's mission is to educate and aid consumers and travel professionals in both planning their travel accommodations and staying current on the most popular destinations. With a portfolio of products, including rate and schedule information from 450 global airlines, CheapOair is a great way to book the travel that's right for you.
For more information, please visit www.CheapOair.com, www.cheapoair.com/mobile, or our social media pages, www.Facebook.com/CheapOair and https://twitter.com/cheapoair.
About CheapOair
CheapOair is a next generation concierge travel agency (online/traditional) that enables consumers to book travel online, on its award winning mobile app, by phone or live chat. CheapOair bridges the gap between an online and traditional travel agency with certified agents available to help find deals and offers to destinations worldwide on over 450 airlines, 150,000 hotels, and many car rental companies worldwide. Partner airlines benefit from access to CheapOair's broad customer base that books high yield international travel and add-on ancillaries. Follow CheapOair on Facebook and Twitter to learn how to travel the world for less or go to www.cheapoair.com or call 1-646-738-4820).
https://www.fareportal.com/wp-content/uploads/2013/04/fp-logo.png
0
0
fareportaladmin
https://www.fareportal.com/wp-content/uploads/2013/04/fp-logo.png
fareportaladmin
2016-12-01 13:51:24
2016-12-01 13:51:24
CheapOair Announces Top Destinations for the Holidays