CheapOair.com, a leading flight-focused hybrid travel agency, today announced its top ten domestic and international destinations for 2018's Fourth of July holiday.
The Fourth of July is all about honoring America, so it is fitting that this year, domestic travel is dominating. Of the top 25 most booked cities over the holiday week, 19 are within the United States. Additionally, some of the most popular destinations also happen to host the nation's most iconic Fourth of July celebrations.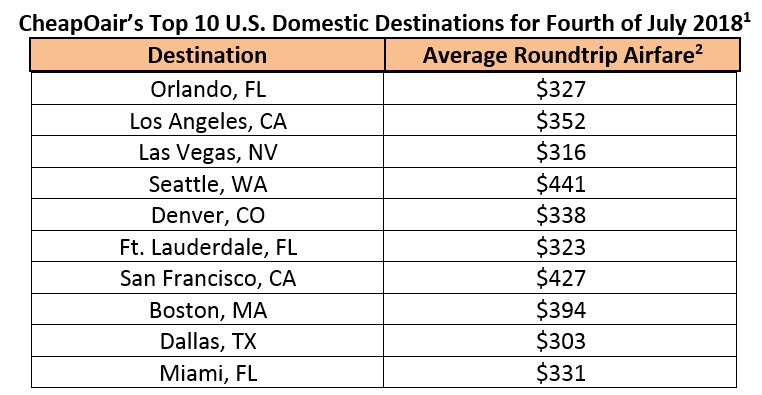 Orlando tops this year's list of most-booked destinations followed by Los Angeles and Las Vegas. The data also revealed that Dallas is the most affordable of the top ten with an average roundtrip price of $303. For the ultimate Fourth of July experience, CheapOair recommends joining in the fun at one of Orlando's amusement parks for their annual Independence Day celebrations or visiting Seattle, San Francisco, or Boston for outdoor concerts and renowned fireworks displays.
For those who are opting to spend the week outside the U.S., London, England is the most-booked international destination for the first week of July, followed by Paris, France and Mexico City, Mexico. International prices are spiking as demand for summer holidays increase.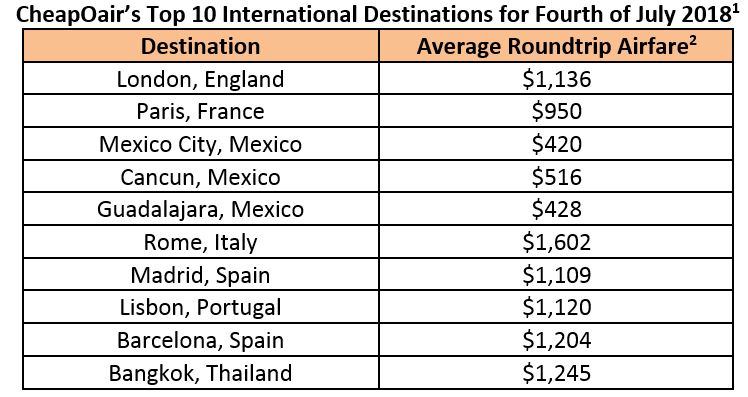 "As we move into the peak travel season, travelers should expect to see prices at the highest levels so far this year," said Sam S. Jain, Founder and CEO at CheapOair. "Internationally, prices to Bangkok, Barcelona, and London are up between 35%-42%[1] while prices to Rome are up over 57% [3] since the Memorial Day booking period in March and April. For domestic travel, prices to San Francisco, Ft. Lauderdale, Orlando, and Seattle are all up over 17% [3] since the Memorial Day booking period."
By consistently monitoring travel trends, CheapOair's mission is to educate and aid consumers and travel professionals in both planning their travel accommodations and staying current on the most popular destinations. With a portfolio of products, including rate and schedule information from 450 global airlines, CheapOair is a great way to book the travel that's right for you.
 For more information, please visit www.CheapOair.com, www.cheapoair.com/mobile, or our social media pages, www.Facebook.com/CheapOair and www.twitter.com/cheapoair.
About CheapOair
CheapOair is a flight-focused, hybrid travel agency that enables consumers to book online, on mobile apps for iOS and Android, by phone or live chat. CheapOair (https://www.cheapoair.com, 1-646-738-4820) bridges the gap between an online and traditional travel agency with certified travel agents available to help find deals and offers to destinations worldwide on over 450 airlines, 1 million hotels, and 100s of car rental companies. Partner airlines benefit from access to CheapOair's broad customer base that books high yield international travel and add-on ancillaries at above the industry average. Follow CheapOair on Facebook and Twitter to learn how to travel the world for less.
###
[1] Based on passengers booked for travel from US gateways departing 06/29/18 – 07/04/18 and returning 07/04/18 – 07/08/18 as of 06/05/1
[2] Based on average roundtrip airfare from US gateways departing 06/29/18 – 07/04/18 and returning 07/04/18 – 07/08/18 as of 06/05/18
[3] Based on average roundtrip airfare from US gateways departing 06/29/18 – 07/04/18 and returning 07/04/18 – 07/08/18 compared to departing 05/20/18 – 5/28/18 and returning 5/28/18 – 6/10/18
https://www.fareportal.com/wp-content/uploads/2013/04/fp-logo.png
0
0
fareportaladmin
https://www.fareportal.com/wp-content/uploads/2013/04/fp-logo.png
fareportaladmin
2018-06-11 12:06:13
2018-06-11 12:06:13
CheapOair Announces Top Destinations for Fourth of July Travel